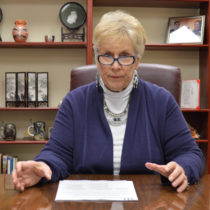 Carole's career began in 1982 in Nashville, TN. where she worked for a marketing/advertising/public relations firm as an account executive. She traveled for a year with a former governor of Tennessee as they traveled the state campaigning. Her main function was coordinating each event he attended from the advance work to planning major fundraising events (one was held at the Opryland Hotel ballroom and was the largest fundraiser ever held at that point in time), to working with the media.
After that campaign ended, a presidential campaign was beginning and Carole, as account executive,was the Washington, DC liaison between the campaign and her firm. The job at hand was a bit different as it was national in scope involving all 50 states and her firm produced the bumper stickers, buttons, campaign brochures and other campaign materials as well as coordinated the convention in Dallas, providing all materials for that including the balloons for the balloon drop the final night of the convention!
As the years passed by, it was time for another presidential campaign in 1988 and her firm not only produced the campaign materials, but also sold advertising for the convention book, which they also produced! During that year, living in Washington, DC became a necessity and provided a springboard for her next challenge, grassroots lobbying! A permanent move to the Nation's Capital was imperative.
The transition from the political world to the lobbying world was an easy one, and coming up through the ranks of her firm from project manager to Vice President of Operations didn't take long. In that capacity, she managed all the project managers who were responsible for every issue on which the firm worked (healthcare issues for PhRMA, Blue Cross Blue Shield, and Pfizer, to name only a few, to defense issues for Lockheed Martin, Boeing, General Dynamics to business issues for associations such as the American Bankers Association and the National Association of Realtors). After 20 years in that field, she made the move to Starkville, MS with her husband to care for an ailing parent.
At that point, Carole was approached by a real estate broker about selling real estate! Well, why not? And her career in real estate was born! After several years selling both residential and commercial real estate, and selling several million dollars of it every year, it was time for yet another change – opening Carole Gaston Realty! Extensive experience in the business world, the political world, and the advertising and public relations world provided a strong background for success!
---
Contact Details
---
Send a Message